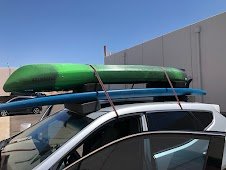 Call us for large orders – No Event We Can't Handle
Day Rental Pick Up Times
EVENING TO EVENING: Rentals may be picked up to 2 hours before closing time and due back one hour before closing 
MORNING TO MORNING: Units picked from Open to 2pm are due between back between 10am to 11am
DON'T WANT TO TRANSPORT YOURSELF??? WE PROVIDE DROP OFFS TOO!!!
OVERNIGHT RENTALS MUST BE STORED IN A SAFE PLACE 
(garage, living room, backyard, etc)
 RENTALS INCLUDE
Life Jackets, Paddles, Universal Roof Racks, Straps, Pumps, Fins, and Leashes
If you have a car and are wondering if you can transport your own kayak/paddle board the answer is YES. We will show you how to make it work. Click on the book online button and we will see you at the shop.
SAME DAY APPOINTMENTS WELCOME (during business hours)
TEXT US For Group Specials or Special Request/Questions
1-619-352-0061
WE ALWAYS HAVE EXTRA UNITS
JUST CALL TO MAKE SURE IF YOU NEED A BIG ORDER